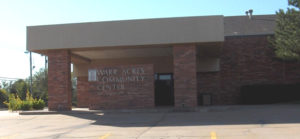 The Warr Acres Community Center is available for group and family activities.  Contact City Hall for information about renting the center for your event.
During the week the center is staffed by Salvation Army workers who operate a Senior Activity Center Program.
The Salvation Army Senior Centers provide a variety of activities designed especially for senior citizens, 55 years of age and older. They serve home-cooked lunches five days a week, plus provide fun activities like health clinics, exercise classes, Wii tournaments, Bible study, and holiday celebrations. They also offer a place where seniors can socialize with each other, volunteer for projects, learn new skills and take field trips to places they may never have visited.
The Salvation Army provides transportation services for seniors who are unable to drive themselves so any who wish can enjoy the programs and activities offered. The programs offer senior citizens in our community services and activities free of charge which enhances their support system, self-worth and health. For more information about Senior Center activities contact the Salvation Army at 405-789-9892.